"JEANNIE SEELY, "MISS COUNTRY SOUL," BESTOWED HONOR OF THE STANDING OVATION AWARD BY THE DONELSON-HERMITAGE CHAMBER OF COMMERCE WOMEN IN BUSINESS

Jeannie Seely Embodies the Spirit of the Award, Now Named After Her For Future Recipients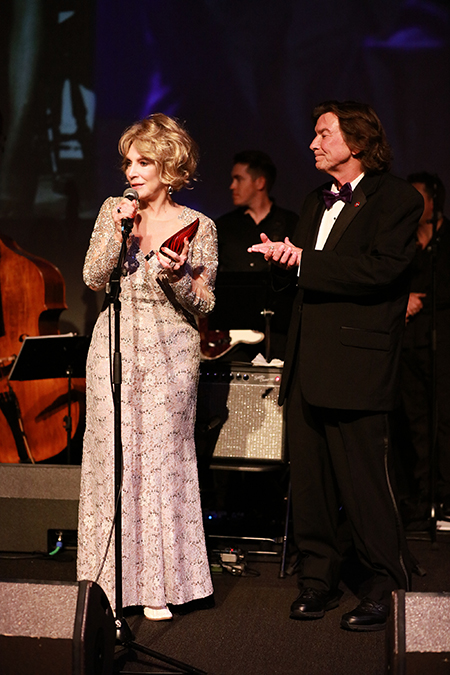 High Res High Res
Photo Credit: Moments By Moser Photography
NASHVILLE, TN. - (June 21, 2019) – Country music royalty and soon to be fifty-two year member of the Grand Ole Opry, Jeannie Seely, was honored and recognized for her contributions to the entertainment industry by the Donelson-Hermitage Chamber of Commerce Women in Business. Acknowledged and congratulated by Country Music icon and her friend, Willie Nelson, The Standing Ovation Award was presented to Ms. Seely by Gus Arrendale at the inaugural Influencing Women Awards Gala, It's a Ball Y'all.

Jeannie Seely has created influence and significance in the entertainment industry and has shown the advocacy of other women in her field by mentoring and supporting them in their professional success. She generously shares her time, advocating for her community and various organizations. This year's recipient embodies the spirit of the award, which will now be named after her.

"I am blessed to live, work and play in the community I love, and to be recognized for your efforts is humbling and such an honor," said Jeannie Seely. "Thank you to my wonderful friends, neighbors and peers."

"As the committee was determining the categories for our awards, it was unanimously agreed that this particular award should only be presented to one person, Jeannie Seely," stated Executive Director - Donelson-Hermitage Chamber of Commerce; Terri Williams Nutter. "She exemplifies all the traits, and embodies the spirit of the award, which will now be named after her."

Jeannie Seely has blazed a trail for others to follow throughout her musical career. From her first singing appearances on a local Pennsylvania radio station at the young age of eleven to her over fifty years as a member of the Grand Ole Opry, Jeannie has consistently paved the way for female artists. She was the first female to host a Grand Ole Opry half-hour segment, as well as the first to wear a mini-skirt on the Opry stage. Nicknamed "Miss Country Soul", Jeannie possesses a beautiful voice and infamous sense of humor.

"Jeannie embodies everything it means to be a powerful woman in the music industry. She has remained classy -poised-and relevant to decades and continues to inspire generations of females to this industry including myself," said Carly Pearce. "Her talent and class have allowed Jeannie to sustain her career over six decades. A Grammy award winning artist, Jeannie continues to write and record. Her latest album, which includes collaborations with Bill Anderson, Vince Gill, Lorrie Morgan, Willie Nelson and more, is tentatively set to release this fall. She regularly hosts and performs on the Grand Ole Opry and is an on air personality and host on Sirius XM's "Willie's Roadhouse."

Not only is Jeannie an admired artist, she is also a community advocate. She has served on the Board of Directors for both the American Federation of Television and Radio Artists and the Donelson-Hermitage Chamber of Commerce and as a longtime spokesperson for the Humane Society. She is also actively involved in the Opry Trust Fund which provides financial assistance to those in need in the country music industry. She is a resident of Donelson and active community member.

The Donelson-Hermitage Chamber of Commerce Women in Business Committee held the inaugural Influencing Women Awards Gala, It's a Ball Y'all, presented by Springer Mountain Farms in Studio A at the Grand Ole Opry. Sponsored by Ryman Hospitalities, Inc. and Pinnacle Financial Partners, the evening celebrated influential women and businesses in the community. Fifteen women and three businesses were nominated in six award categories. Additional honors went to Gina Keltner – Beyond The Glass Ceiling Award, Megan Sticker - Woman To Watch Award, Pinnacle Financial Partners - Champion of Women Award, Lisa Eastland - WOW Award, Michele Mazzu – Heart of Donelson Award and Betty Cannon – Lifetime Legacy Award.

Stay in touch with Jeannie Seely on her website and all of her social media platforms
Facebook
,
Twitter
,
Instagram
and
YouTube
.

About Jeannie Seely:
Country music legend Jeannie Seely has achieved chart topping songs as a solo artist, as a duet partner, and as a songwriter. Early in her career, Jeannie's deeply moving vocals earned her the nickname of "Miss Country Soul"– a title that's still used today. Jeannie's biggest dream came true when she was inducted as a member of the world-famous Grand Ole Opry, becoming the first Pennsylvania native to do so. Jeannie takes much pride in her involvement and support of musicians' rights. In 2017, Jeannie celebrated her 50th anniversary as a member of the Grand Ole Opry. From her 1966 Top 10 Billboard album The Seely Style to her recent self–produced album Written In Song, consisting entirely of songs she's written, Jeannie's recordings have spanned six decades and provided enjoyment to country music fans all around the world. In his 2003 book "Finding Her Voice: Women In Country Music," music critic Robert K. Oermann wrote, "With her chin-out, tough/tender, heart-of-gold manner, Jeannie Seely remains one of country's most completely modern female personalities," and that statement still holds true. Keep up with all things Jeannie Seely at
www.jeannieseely.com
.

About The Donelson-Hermitage Chamber of Commerce Women In Business:
Recognizing that women command a dynamic place in today's workplace and community, the Donelson Hermitage Chamber of Commerce formed Women in Business (WIB) in 2007 with a Mission Statement declaring: "Women in Business coming together in friendship to celebrate, connect, mentor and support each other." The Donelson-Hermitage Chamber of Commerce is the community resource connecting diverse people and businesses for the continued economic development and overall enhancement of the Donelson-Hermitage communities.

High Res

Photo Credit: Cyndi Hornsby